IBIX offers complete and turnkey units so that its customers can use the new technologies straight away
Systems inspired from the IBIX philosophy that respect ideals of compactness, ecology, quickness and safety.
The Start up System gets easily into a trunk of a station wagon and it is a small enterprise itself, able to do samples and small restoration and urban cleaning works.

Il Sistema standard entra in un furgone di piccole dimensioni ed è in grado di sfruttare la tecnologia IBIX con grande versatilità.

The Executive System can be loaded into a common commercial van and includes a unit that can fully take advantage of the IBIX technology.
IBIX supports the start of new enterprises in the special cleaning industry; open yourself up to the IBIX world to get new business opportunities in a market of high added value.
Buy the IBIX START-UP KIT, promote your new working activity, specialize and get jobs, within six months you will be able to purchase a complete IBIX system to carry out medium size works in various fields; it is ideal for spot blasting on wood, stones and graffiti removal; the complete unit fits into a small van so that the operator can easily work in urban contexts and city centers.
IBIX START-UP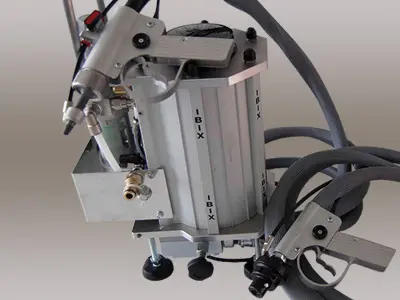 Improve and professionalize your approach and commercial proposal purchasing the new IBIX START-UP KIT; you will be able to sample and to do small and medium works with a modest investment that does not diminish in value as time passes.
The kit includes
NANO IBIX 3 is a kit made of a IBIX H2O pistol and a micro aero-abrasive device with double functioning (wet/dry) equipped with a small tank that can be fully emptied to make the abrasive change easier.
The kit includes a special suitcase containing ten graduated jars with different abrasives, ready to be used promptly for cleaning demonstrations and samples.
The kit is completed with a low consumption (2.2 KW) screw electric compressor, working with single-phase current, called IB2 TROLLEY; thanks to its frame this compressor can be fitted into the trunk of a station wagon, it is small, easy to transport and move and very silent.
SISTEMA IBIX STANDARD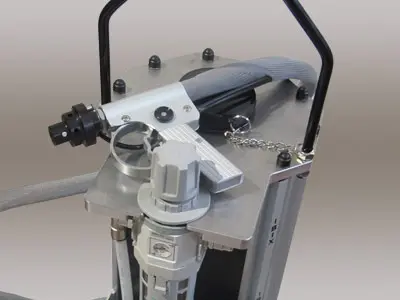 Il sistema IBIX standard racchiude la prima unità funzionale del metodo IBIX.
Le sue dotazioni rendono in grado di affrontare lavori di media entità in svariati campi di applicazioni. È ideale per il trattamento spot di superfici in legno e lapidei, rimozione graffiti, restauro portoni e infissi in legno.
L'intera unità entra in un furgone di piccole dimensioni in modo da operare senza difficoltà in città e nei piccoli centri urbani.
SISTEMA IBIX EXECUTIVE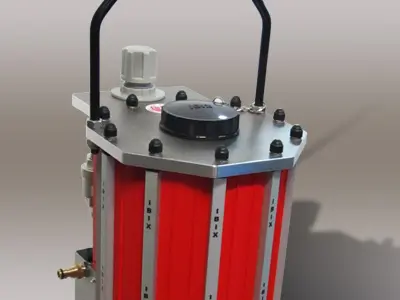 The IBIX Executive System offers the full functionality of the IBIX method; its equipment allows the operator to treat vast surfaces with a working air pressure adequate to every kind of work, paint removal, surface preparation and treatment, harmful patinas removal, non-abrasive cleaning of machineries and fragile surfaces; the complete unit can be fitted into a standard dimension van and can be easily moved and used by just one operator.